Skip to Content
Bathroom Plumbing Services in Metcalfe, ON
Vanity & Faucet Plumbing
At Honest D Plumbing, we often get calls from our clients saying they have a leaky fixture they'd like repaired. We will ask for pictures or video of the existing fixtures so we can see the approximate age and condition of that fixture.
Most times, it is more cost effective for the client to purchase a new fixture and have us replace it, rather than trying to obtain parts for the existing fixture to repair it – all is dependent upon the age, and quality of your water which wears out fixtures over time.
If you close your tap and notice that the water is continuing to drip, you likely require a new cartridge. Depending on the age of your faucet, a simple cartridge replacement may be all that's required. Simply locate the make and model of your faucet and contact your local supplier to order a new cartridge which most times will be sent free of charge.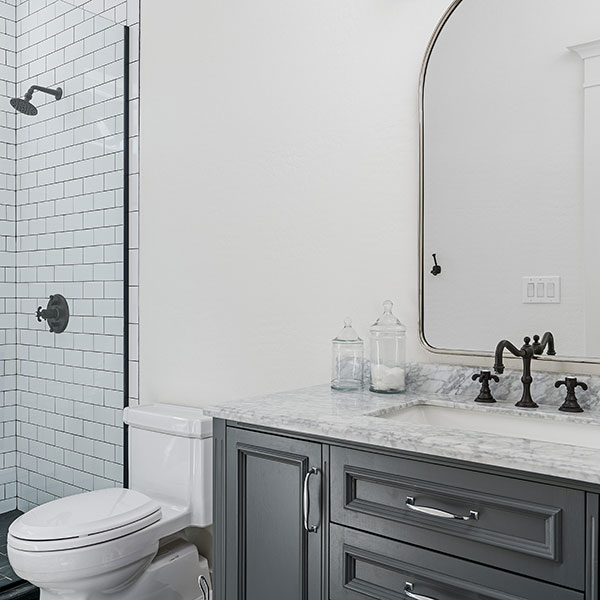 Fixture Replacement
Most clients opt to select and purchase their own fixtures and our team can be scheduled in for a service call to install the replacement. We are happy to source a new fixture for our clients as well, as long as we know what your preferences are on finishes (i.e. chrome, brushed nickel etc.)
When fixtures are being replaced, we will look at your water shut off valves & if they are showing signs of age and are corroded, we will recommend replacement. If you've never done renovations to the space, chances are shut off valves for your water lines have not been installed – not to worry! We at Honest D Plumbing can take care of this for you as well. It involves shutting off the water in your home to install the new shut off valves. This way, going forward, you'll avoid having to shut down the water in your home allowing you to isolate that one fixture that's not functioning.
Honest D Plumbing – your Osgoode plumber has the fix whatever your needs are. Email us today at honestdplumbing@gmail.com.
Tub & Shower Enclosures, Surrounds, and Glass Doors
Bath Tubs
As one of the top local Metcalfe plumbers, we often have clients asking whether to replace their tubs with walk in showers. There are a couple of factors to consider such as whether you have another bathroom with a tub or this is your only full bathroom. Resale value suggests having at least one bathroom that contains a tub is a good selling feature. Another factor is cost – custom walk in showers are more expensive than standard tubs due to tiled bases and custom shower glass.
Most tubs are standard 60" in size, special order tubs are available from our suppliers if required. Many Metcalfe homeowners are looking to eliminate the older style jet tubs in favor of deep soaker or stand alone tubs with tower faucets that are mounted directly through the floor. An alcove tub refers to a tub that is surrounded by 3 walls. If you are purchasing a new tub, ensure you inquire if the drain kit is included as most times it's sold separately.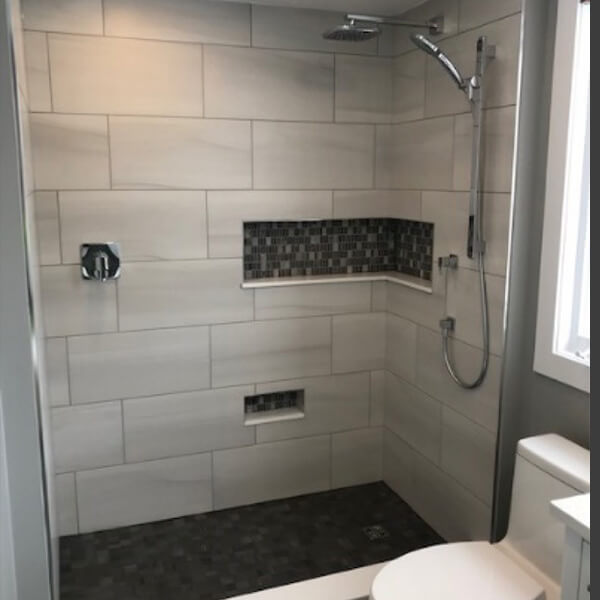 Custom Schluter Shower Pans vs Acrylic Shower Base
Schluter (Trademark) has created a versatile water proof membrane system that we highly recommend when installing showers or on tub walls. It is important you find a local contractor who is familiar with this product as it requires experience to install properly.
Your contractor will install the pan and your local Russell plumbers Honest D Plumbing, will connect the drain and do a water test to ensure no leakage. Below picture is of custom shower with Schluter base and tile.
Many of our clients opt for acrylic shower pans or kits to save money and avoid custom bases and floor tile as shown in the above Schluter pan option. We only recommend shower pans that are high grade fibreglass and cost upwards of $700 – $800. Otherwise, if you purchase a cheap base, they are flimsy and have play when stepped on & can cause silicone at glass & pan to fail over time causing unwanted leaks. Cheaper is NEVER better in this case!

3 Piece Tub & Shower Surround Kits
On a budget but would like to redo your Metcalfe shower/tub? Our 3 piece wall surround kits are a good alternative and can save you time and money on expensive wall tile and labor to install and can usually be completed in one day. Ask us to see our product line from Emco!
Shower Glass Doors
During Russell bathroom renovations, we often get the question "who installs my glass shower doors, my contractor or my plumber?" We install glass shower doors and price is dependent upon complexity of new door system. They are difficult to provide pricing on, since they can take anywhere between 2-6 hours to install, again, depending on the complexity. If you are doing a custom shower you will likely require the services of a glass company to template a custom piece of glass that will fit your new shower. In this case, the glass company would supply and install your new shower doors.
Shower Control Valves and Trim Kits
Another common call we receive is for shower valve replacements – your tub/shower control valve is leaking or not functioning properly. This is a more in depth service call as unless you are obtaining a replacement cartridge (if available for the model of your existing valve), you may need to replace the entire valve housing and trim kit (this is the fixture on the wall that's usually chrome or brushed nickel).
With many tub walls finished in tile, we don't want to disturb or cut into the tile so we may need to access the valve from the opposite side of the wall which involves cutting a hole in your drywall. This way and as long as the new trim kit you purchase is at least the same dimensions as the existing one or slightly larger, the process will look flawless. We can provide a plastic removable panel to cover the hole in your drywall or you can opt to have a drywall repair done by your local contractor.
For home owners looking to renovate their bathrooms, clients will often want to purchase their own shower trim kits which can include a diverter, control valve, shower head & hand held wand. We ask that you also purchase the rough-in kit for the control valve that corresponds with your trim plate. This is the portion that goes in the wall and is the "guts" of the fixture which connects the water lines to the face plate. We advise our clients to spend the money on quality fixtures and use reputable suppliers such as Wolseley or Mondeau.
Cheap is never a good idea when it comes to shower control valves and trim kits – they are in your walls and leaks can have disastrous results. When selecting a brand, Moen and Delta are always a safe choice as they tend to have standard cartridges which are readily available.
Diverter Valves, Rain Head & Hand Held, Shower Jets
Embrun plumbers tend to agree – we've all been asked the question…"To install a hand held wash bar or just go with a standard shower head" Our answer is always the same – Install the hand held – this makes cleaning the shower walls & tub so much easier and assists when bathing small children & pets – you'll be glad you did! If you do decide to go for the hand held wash bar, you will require what's called a diverter installed inside the wall. This allows the water to be "diverted" from your shower head to the hand held and vice versa. At the time you purchase your rough-in kit for your shower control lever, also make sure you obtain the corresponding in wall diverter kit.
Rain Heads
With so many choices in the market today with shower heads, we always require the input from our clients on their preference. When doing a bathroom renovation we will often recommend relocating the shower head from it's usual position on the wet wall where plumbing is located, to the ceiling. This creates a rainfall effect and is particularly good for taller people when taking a shower. Keep in mind that a bulkhead would need to be built to house the plumbing for the shower head, something your local contractor will be familiar with.
Shower Jets
When doing renovations or on new builds, many clients are opting for a panel on the wet wall where plumbing is located which houses several body spray jets. This is definitely a nice upgraded feature to have, but will add cost to your project. By providing your budget to us, we can quickly assess which plumbing fixtures will suit your needs.
Cutting and Capping of Water Lines
Honest D Plumbing, your local Russell plumbers often receive calls from local contractors or home owners requesting our services to cut and cap water lines in preparation for renovations or repairs. Please email us at honestdplumbing@gmail.com and request your service date and provide us with your scope of work. Our office will schedule you in for our team to shut off the water in your home so that we may safely cut and cap the water lines to allow for the relocation or removal of any cabinets or existing water lines. At this time, we'd be happy to relocate any rough-ins in preparation for your project. Once you are done, email us back to return to do the hook ups, install required shut off valves and install plumbing fixtures for your project.
Wall Mount Fixtures
Looking to renovate your bathroom and install a modern wall mounted vanity? Call us to cut and cap any water lines to allow your contractor to install the proper backing within the wall to safely mount your new vanity. Please note that the drywall behind the vanity will need to be opened up to allow for the proper wood backing to be installed so that your new vanity can be properly anchored by your contractor. Modern plumbing fixtures can also be wall mounted as seen in these pictures (work completed by Honest D Plumbing).
Counter Tops
Often times when doing bathroom renovations in Metcalfe, we have clients who would like to give their bathroom a new look but have budget constraints. We suggest replacing your bathroom counter and putting in a new drop-in sink & faucet. Should you wish to go with a stone countertop, you'll need to contact a stone company who will come and measure, then install the undermount sink or cut holes in the top for vessel sink/faucets & then you can call Honest D Plumbing to hook up the drain & install the faucets for you. Big impact for not a lot of money!